Pestline Sdn Bhd
8, Jalan Ekoperniagaan 1/16,
Taman Ekoperniagaan,
81100 Johor Bahru,
Johor, Malaysia.

+607-562 5151
+607-562 6119
mic.wong@pestline.com.my
Thermal Fogging Machine TS-35A(E)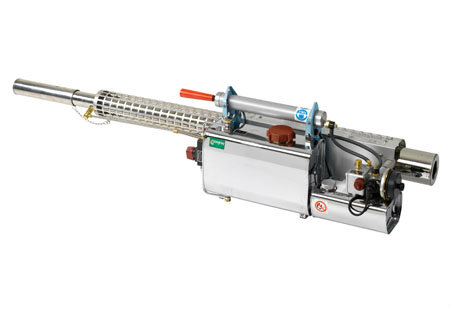 Fogging Machine Model:
Thermal Fogger TS - 35 A(E) Feature
Our Thermal Foggers are internationally certified and comply with WORLD HEALTH ORGANIZATION REQUIREMENTS.
This Fogging Machine all seals, gaskets, and diaphragm in contact with solution are made of Teflon and Viton.
Fuel and chemicals tank, cooling jacket and protective shield all crafted corrosion-resistant stainless steel.
Easy to operate and maintain.
Equipped with a precision regulating valve that lets you adjust flow rate and particle size.

Fields of Application

This thermal fogger can dispense both water- and oil-based chemicals, such as most pesticides, fungicides, disinfectants, miticides, poultry vaccines, and odor neutralizers.
Our thermal foggers have been used in a variety of environments:
Living: apartment complexes, hotels, ...
Public places: schools, parks, camp-grounds, shopping centers, restaurants, ...
Industrial: warehouses, factories, food-processing plants, ...
Agriculture: cattle barns, swine/poultry houses, grain mills, ..
Technical Specifications
| | |
| --- | --- |
| Weight, empty | 8.36 Kg |
| Dimensions ( L x W x H) | 1370×270×315 mm |
| Weight, empty (shipping data) | 11.6 Kg |
| Dimensions (L x W x H),(shipping data) | 1288×310×360 mm |
| Solution tank capacity | 5 L |
| Fuel tank capacity | 1.5 L |
| Fuel consumption | 1.5 l/h |
| Performance of combustion chamber | 18.6 KW / 25.2 HP |
| Flow rate | 8-44 l/h (According to nozzle's diameter) |
| Energy | 4×1.5 V batteries |
| Pressure in the solution tank | 0.25 bar |
| Pressure in the fuel tank | 0.06 bar |
Download PDF