Pestline Sdn Bhd
8, Jalan Ekoperniagaan 1/16,
Taman Ekoperniagaan,
81100 Johor Bahru,
Johor, Malaysia.

+607-562 5151
+607-562 6119
mic.wong@pestline.com.my
Pioneer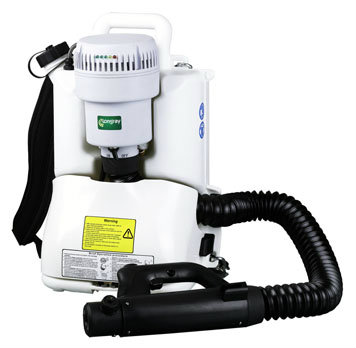 Feature
World's first cordless, battery-powered knapsack ULV fogger.
Freedom from power cables and power outlets.
Equipped with a precision regulating valve that lets you adjust flow rate and particle size.
90% of droplets produced are under 20.00 microns in diameter.
Droplets in this size range can linger in the air for over 4 hours, perfect for killing flying insects.
A flexible hose with handle on nozzle lets you spray into hard-to-reach areas such as between kitchen cabinets, under carpets, above ceilings, and into ducts.

Optional Spraying Nozzle Configuration

Wide-angle spraying swirl nozzle, suit for short-distance spraying.
Small-angle spraying swirl nozzle, suit for long-distance spraying.

Fields of Application

This Ultra Low Volume fogger dispenses both water- and oil-based pesticides, fungicides, disinfectants, miticides, poultry vaccines, and odor neutralizers.

Our ULV foggers have been widely used by customers in both indoor and outdoor environments:
residential, hotels, offices: hospitals, schools, animal care facilities, industrial, greenhouses, food processing plants, warehouses, dairy and poultry farms and etc...
Public health: disease control, malaria and etc...
Technical Specifications
| | |
| --- | --- |
| Electrical Motor | 200-400W, 24V, DC Brushless Motor |
| Fogging Nozzle | Wide-angle Spraying Swirl Nozzle |
| Liquid Flow Rate | 0-27 l/h, Adjustable |
| Tank Capacity | 6 L |
| Dimensions i (L¡ÁW¡ÁH) | 332 x 328 x 506 mm |
| Weight , empty(shipping data) | 10.3 kg |
Download PDF