Pestline Sdn Bhd
8, Jalan Ekoperniagaan 1/16,
Taman Ekoperniagaan,
81100 Johor Bahru,
Johor, Malaysia.

+607-562 5151
+607-562 6119
mic.wong@pestline.com.my
3WC-30-4P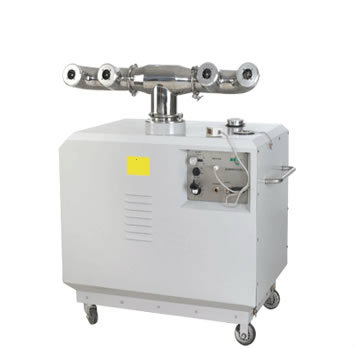 Features
Designed to be mounted on a vehicle.
* Small enough to mount on almost any vehicle.
* Can be remotely-controlled by operator in cab.
* Safe, low operating voltage (12V).
Output quality and flow rate
* Solution is air-atomized, preserving its activity.
* Adjustable spraying distance.
* Very economical in use of solution, reducing your chemical costs.
* Treats up to 100 acres per hour, reducing your labor costs.
* Produces near-invisible droplets, for better penetration and
diffusion.
* Creates a dense fog that penetrates into spaces and lingers in the
air.
Fields of Application
Mainly used for vector control and sanitation in urban, agricultural, and forestry environments.
Optional accessory
Optional external solution tank:
300L, 720¡Á1000mm 7.5kg
500L, 840¡Á1000mm 10.5kg
800L, 1200¡Á1000¡Á1000mm 71kg
1000L, 1200¡Á1000¡Á1160mm 77kg
1200L, 1200¡Á1000¡Á1350 91kg
Technical Specifications
| | | |
| --- | --- | --- |
| Engine | Single cylinder, upright, air cooled, 4stroke diesel engine | Single cylinder, upright, air cooled, 4 stroke gasoline engine |
| Power(kW/rpm) | 5.7/3000rpm 6.3/3600rpm(accelerator with full throttle down), | 8.8/3600rpm |
| Start-up-mode | Electric | Electric |
| Oil consumption(g/kWh)] | 3000rpm:275.1/3600rpm:281.5 | 3600rpm:281.5 |
| Fuel | 0#(summer),£­10#(winter) diesel oil | Gasoline |
| Fan | High pressure centrifugal fan | High pressure centrifugal fan |
| Blower | Direct drive, positive displacement rotary type | Direct drive,positive displacement rotary type |
| Air volume(LPM) | £¾30000 | >30000 |
| Air pressure(Pa) | £¾3500 | >3500 |
| Atomizing type | Swirl air current of highly speed revolving | Swirl air current of highly speed revolving |
| Number of Nozzle | 4 | 4 |
| Particle size(micron) | 30 | 30 |
| Spraying capacity(L/h) | 50-300 , can be continuously adjustable. | 50-300 , can be continuously adjustable |
| Capacity of inner solution tank | 50L | 50L |
| Dimensions (mm) | 654¡Á1200¡Á1130 | 1075¡Á575¡Á845 |
| Net weight(kg) | 200 | 100 |
Download PDF